Medic 1
provides trained medics, first aid and event medical services.
Do you need a medic for your event? Our experience is a volunteer with a first aid certificate is not enough. Medic 1 was established to meet increasing demand for trained medics with frontline experience (including former nurses and ambulance officers). With carefully selected associates throughout New Zealand including private ambulance services, Medic 1 is well situated to take care of all your first aid and event medical requirements from Kaitaia to Bluff.
We plan. We prepare. We treat. We care.
The majority of Medic 1 staff deployed at your event are likely to be first responders who are trained to provide high standards of pre-hospital emergency care. We believe this level of training is vital to be able to properly differentiate between patients who may be treated on site from patients who require more intensive care and transport to hospital.
Medic 1 ensures that all of our people are properly qualified and up-to-date with relevant clearances including Police vetting. Our medics wear a distinctive uniform, which includes high visibility shirt and safety vest. The presence of Medic 1 can help to reassure your staff, spectators, participants and the public by being on-site to provide essential first aid and emergency care (including basic life support).
Please note, we do not provide registered paramedics, emergency ambulances or patient transport services. We are here to assist you in mitigating any risk at your event, contact us now to book Medic 1 for your next event to ensure your first aid obligations are met. If you need a service that's not visible on this website, let us know and we will find a solution.
What events do we cover?
Community events

Shows and festivals

Corporate events

Sporting events

Equestrian events

Film productions

Television commercials

Any event, venue or private function
What do our clients say?
"We used Medic 1 in Wellington for our event. The medics were friendly and well trained. I have no hesitation in using your company again in the future" Event Manager
"Medic1 provided us with first aid services for our judo championships. They operated very professionally and dealt with all ages from primary school age to adults. They will be coming to our next event" Sports Team Management
"Your medics were professional and always willing to go the extra mile. Our crew felt very safe knowing your team were capable of managing any emergency situation" Film Production Company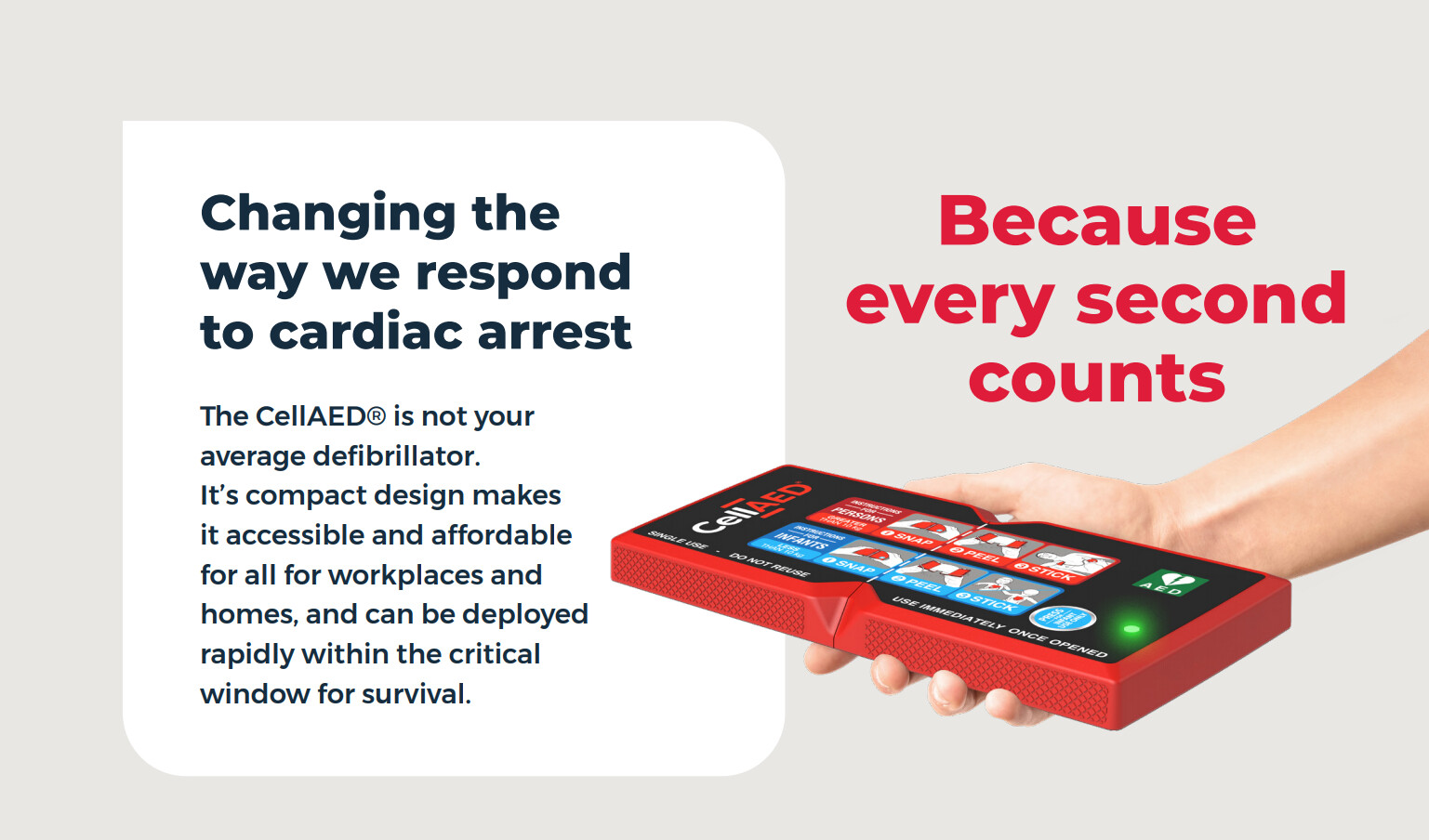 Save a life!

Talk to us about
CellAED
Be prepared and confident to act quickly to save a life. CellAED can be applied in seconds. CellAED is the world's first ultra compact, smart and personal AED. We know the importance of a rapid defibrillation to help restart a heart in cases of sudden cardiac arrest. You can help a loved one or anyone in our community with this innovative AED.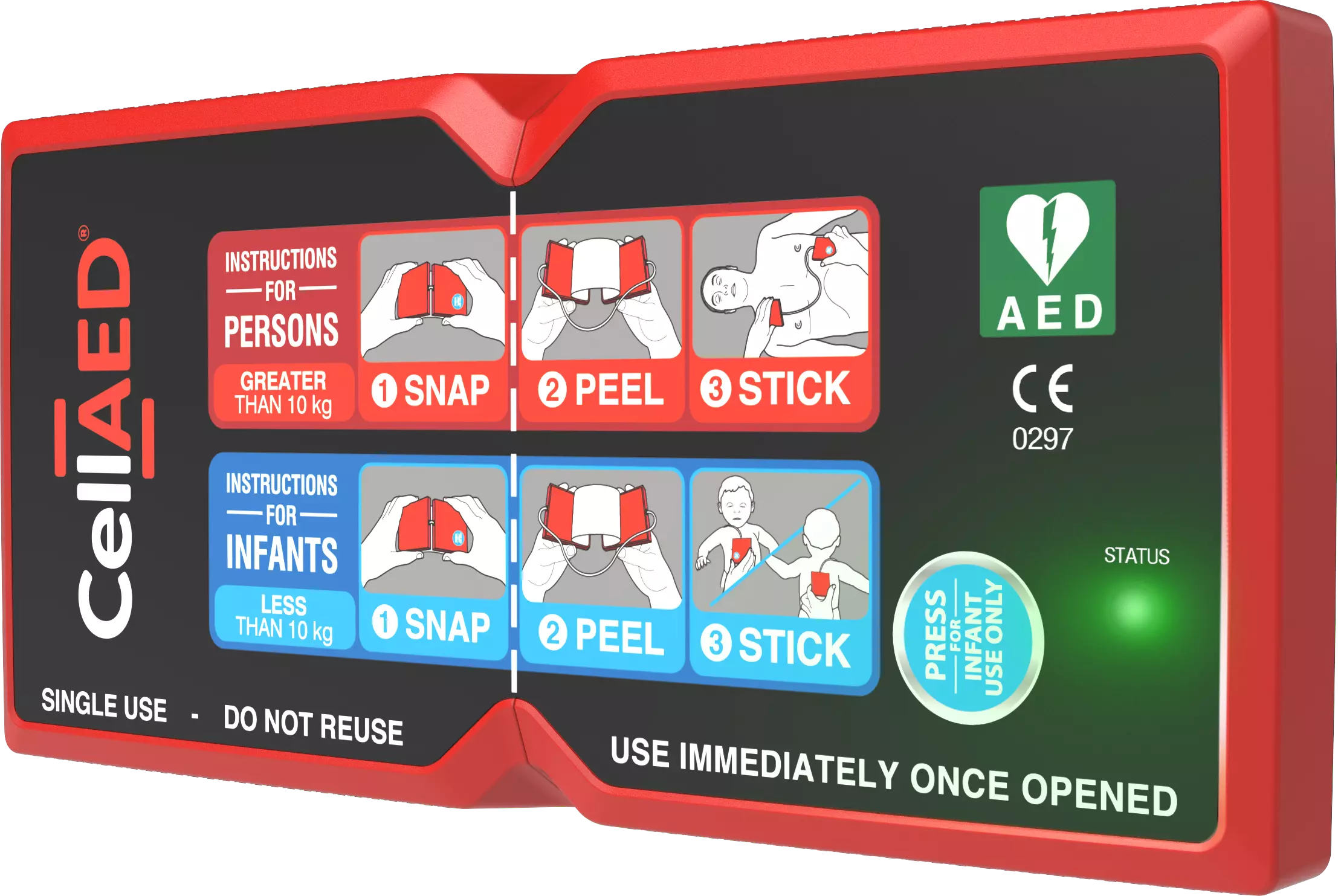 Features:
Graphics show how to apply the device on both adults and infants
A perforated label marks the place for easy snap activation
Audio speaker gives instruction on what to do, every step of the way
Infant mode button for use on infants weighing less than 10 kg.
LED indicator with periodic blinking showing the status of the device
Dimensions: 19.6cm x 9.3cm x 1.7cm
How it works
Snap Peel StickTM to apply in seconds
Power device by snapping in half along perforated centre line. This will automatically start the audio instructions guiding you on what to do, every step of the way.
Remove the protective liner under the device by continuing to separate the two halves. This will expose the integrated gel pads and extend the connecting cable.
For adults, place each half of the device on the bare chest (as shown). For infants, place one half on the infant's chest and the other half on the infant's back.